UT Health Rio Grande Valley, the clinical practice of the UTRGV School of Medicine, is an innovative and growing academic medical center focused on providing you and your family with the highest quality and personalized patient care in South Texas.
Improving the quality of health and wellness for individuals and families in the RGV is the heart of our mission. Our experienced doctors provide compassionate and advanced diagnosis and care for the unique health needs of patients each day. Helping you live a healthy and joyful life is important to us.
UT Health RGV offers personalized medical care and treatment in family medicine, neurology, general and endocrine surgery, along with women's health, plastic surgery, pediatrics, orthopedics, sports medicine, behavioral health services and many more. You can view our complete list of services.
You can schedule a visit to any of our patient-friendly clinical locations throughout our large network of RGV health centers in Edinburg, McAllen, Weslaco, Harlingen, Brownsville, and Laguna Vista. For more information, call us at 1-833-887-4863 or Request an Appointment Online. DEDICATED TO THE HIGHEST STANDARDS
OF QUALITY and SAFETY

BOARD CERTIFIED and FELLOWSHIP
TRAINED PHYSICIANS

ADVANCING PATIENT CARE THROUGH
INNOVATIVE RESEARCH
Affiliated with the UTRGV School of Medicine and the University of Texas System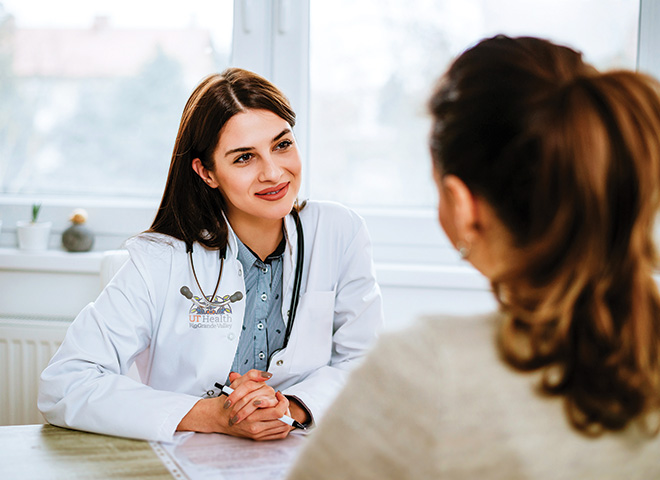 UT Health RGV clinical sites provide a practice outlet for board certified physician faculty members of the UTRGV School of Medicine, which is a part of the University of Texas System.

Why is the affiliation with a school of medicine and the UT System important?

Having a UTRGV School of Medicine affiliated physician means you have access to experienced doctors who are educating and training the next generation of health care leaders, many of which are engaged in cutting-edge medical research.
Our affiliation with the UT System increases opportunities for your health care and gives our physicians access to valuable medical research from UT System health facilities to enhance patient diagnosis and individualized treatment plans in South Texas.
We care about improving the health and wellness of every patient in the Rio Grande Valley. By leveraging our innovative medical resources and expert medical team, our commitment to delivering excellent patient care for you and your family is why we decided to serve our Rio Grande Valley community.
At UT Health RGV, our physicians are dedicated to enhancing the quality of life for patients because what matters to your health, matters to us.